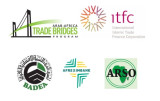 Multimedia content

Images

(1)

Roundtable on the Harmonisation of Standards for Pharmaceutical Products and Medical Devices in Africa during IATF 2021 in Durban
Source: International Islamic Trade Finance Corporation (ITFC) |
Under the Arab Africa Trade Bridges (AATB) Program, ITFC, Afreximbank, BADEA and ARSO organized a High-level Roundtable on the Harmonisation of Standards for Pharmaceutical Products and Medical Devices in Africa during IATF 2021 in Durban
The week-long event brought together government officials, policy-makers, industry leaders and institutional heads from African countries and other regions to discuss the future of of the African Continental Free Trade Area (AfCFTA), trade, health and post-covid economic recovery
ITFC has always been committed to socio-economic projects with high impact in Africa
DURBAN, South Africa, November 18, 2021/APO Group/ --
The International Islamic Trade Finance Corporation (ITFC) (www.ITFC-idb.org), the African Export-Import Bank (Afreximbank), Arab Bank for Economic Development in Africa (BADEA) and the African Organization for Harmonization (ARSO), Africa Continental Free Trade Area (AfCFTA) Secretariat, joined other partners and strategic stakeholders for a strategic roundtable on the Harmonisation of Standards for Pharmaceutical products and Medical Devices in Africa.
The event which took place on the 17th November, 2021 on the sidelines of the 2021 edition of the Intra-African Trade Fair (IATF), highlighted the progress made on the Harmonisation process and the impact its full implementation will have on the continental economy in the context of the African Continental Free Trade Area (AfCFTA).
Speakers at the event included Eng. Hani Salem Sonbol, CEO ITFC; Dr. Sidi Ould Tah, BADEA Director General; Mr. Amr Kamel, Executive Vice President (EVP)- Business Development and Corporate Banking, Afreximbank; H.E. Albert M. Muchanga, Commissioner, African Union Commission; H.E. Mr. Wamkele Mene, Secretary General AfCFTA; Dr. Vera Songwe, Executive Secretary, UN Economic Commission for Africa; Dr. Hermogene Nsengimana, ARSO Secretary General and Dr. Paulyne Wairimu,PPB, Kenya/AMDF.
Issues discussed included country and regional partnerships on industrialization, the potential of the pharmaceutical industry in Africa, and its role in the continent's economic recovery beyond the COVID-19 pandemic. The discussions highlighted the impact of local manufacturing of vaccines and drugs on Africa's pharmaceutical value chains and preparedness to fight future pandemics.. Africa remaining one of the continents with genuine opportunities for growth in the pharmaceutical sector, the speakers called for more support and investsment to be channeled towards the industry; therefore encouraging governments and the business community to make use of the AfCFTA Agreement to facilitate trade and investment in the sector. Africa's pharmaceutical industry is projected to be worth US$ 70 billion by 2030 thanks to its growing urban population, changing economic landscapes, climate-change-related challenges, increased healthcare spending and healthcare provision capacities.
Highlighting ITFC's commitment to the harmonisation project and to health in Africa, Eng. Hani Salem Sonbol, ITFC CEO, said: "ITFC has always been committed to socio-economic projects with high impact in Africa and it is to primarily structure that commitment that we launched the Arab Africa Trade Bridge (AATB) Program under which the Harmonisation project is running. There is a lot of potential in the continent's pharmaceutical and health sectors and we are poised to support strategic projects such as this that will go a long way to boost industrialization on the continent and play a crucial role in providing people with the needed health services and medicines they need. We are elated to be on this journey with ARSO, Afreximbank and BADEA and we are looking forward to seeing the long term impact of the project."
Mr. Amr Kamel, EVP Afreximbank also stated: "Afreximbank has taken upon itself to support various aspects of quality infrastructure in Africa. In partnerhip with ARSO and the African Union, the Bank developed the African Quality Policy to harmonise automotive standards. Afreximbank is also supporting the development of African Quality Assurance Centres (AQACs) across the continent. AQAC is an initiative embarked by the Bank to address the key trade barrier of non-compliance with international trade standards and technical requirements for export markets. The initiative supports the emergence of internationally accredited canters for testing, inspection and certification services of "Made in Africa" products across the continent".
Dr. Sidi Ould Tah Director General of BADEA speaking on behalf of the organization said: "To ease investment in and trade of pharmaceuticals and medical devices, the harmonization of standards and quality is a must and needs to happen as soon as possible to reap the potential benefits of the AfCFTA as substantiated across economic analysis. And BADEA reiterates its commitment to support this initiative along other partners."
The roundtable concluded with the reiteration of stakeholders' commitment to complete the harmonization process and invest more in health-centered projects on the continent within the AfCFTA framework.
Distributed by APO Group on behalf of International Islamic Trade Finance Corporation (ITFC).
Contact:
Tel: +966 12 646 8337
Fax: +966 12 637 1064
E-mail: ITFC@itfc-idb.org
Social media:
Twitter: @ITFCCORP
Facebook: @ITFCCORP
LinkedIn: International Islamic Trade Finance Corporation (ITFC)
About the International Trade Finance Corporation (ITFC):
The International Islamic Trade Finance Corporation (ITFC) is a member of the Islamic Development Bank (IsDB) Group. It was established with the primary objective of advancing trade among OIC member countries, which would ultimately contribute to the overarching goal of improving socioeconomic conditions of the people across the world. Commencing operations in January 2008, ITFC has provided US$58 billion of financing to OIC member countries, making it the leading provider of trade solutions for these member countries' needs. With a mission to become a catalyst for trade development for OIC member countries and beyond, the Corporation helps entities in member countries gain better access to trade finance and provides them with the necessary trade-related capacity building tools, which would enable them to successfully compete in the global market.
About African Export-Import Bank (Afreximbank):
The African Export-Import Bank (Afreximbank) is a Pan-African multilateral financial institution with the mandate of financing and promoting intra-and extra-African trade. Afreximbank was established in October 1993 and owned by African governments, the African Development Bank, and other African multilateral financial institutions as well as African and non-African public and private investors. The Bank was established under two constitutive documents, an Agreement signed by member states, which confers on the Bank the status of an international organization, and a Charter signed by all Shareholders, which governs its corporate structure and operations.
Afreximbank deploys innovative structures to deliver financing solutions that are supporting the transformation of the structure of Africa's trade, accelerating industrialization and intra-regional trade, thereby sustaining economic expansion in Africa. At the end of 2019, the Bank's total assets and guarantees stood at USD$15.5 billion and its shareholders funds amounted to US$2.8 billion. Voted "African Bank of the Year" in 2019, the Bank disbursed more than US$31billion between 2016 and 2019. Afreximbank has ratings assigned by GCR (international scale) (A-), Moody's (Baa1) and Fitch (BBB-). The Bank is headquartered in Cairo, Egypt. For more information, visit: www.afreximbank.com
About Arab Bank for Economic Development in Africa (BADEA):
The Arab Bank for Economic Development in Africa- BADEA- is a multilateral development bank owned by eighteen (18) Arab countries, members of the League of Arab States (LAS). The Bank has been operational for the last 45 years with footprints in about 44 countries.
BADEA aims at promoting economic development in Africa and fostering cooperation between the beneficiary countries and the Arab World through investment and trade. To this end, BADEA's operations revolve around four strategic pillars:
i) Infrastructure investment in energy.
ii) Private sector and trade financing.
iii) Agriculture value-chains.
iv) Entrepreneurship and SMEs. In addition, capacity development weighs in as a cross cutting pillar.
For more information, visit: www.badea.org.
Follow us on Social Media: @BADEAbank #BADEA2030